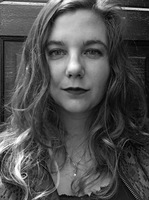 Samantha Rausch, (b.1988. Charleston, SC) is an American multidisciplinary artist working in sculpture, painting, and performance art. Rausch devises cosmic narratives that explore mystical symbols and allegories as an abstract means to the fusion of visual language whose purpose is to examine how we engage with time, space, and relationships.
Rausch
currently lives and works in Chicago, Illinois.
Her work has been shown in public Parks, at Chicago Institutions such as the Museum of Contemporary Art, Museum of Science and Industry, and in many national galleries predominately along the East Coast & Midwest.
Rausch received her MFA from the Mount Royal School of Art at the Maryland Institute College of Art and her BFA & BA in Art History from the University of South Florida.
Rausch's commitment to transforming public spaces
has to lead to being a grant and fellowship recipient from the Baltimore Office of Promotion & The Arts, Chicago Sculpture International, Chicago Parks District for public artwork. S
he participates in
residencies including the Vermont Studio Center, Art Farm, Windy Mowing Mills.