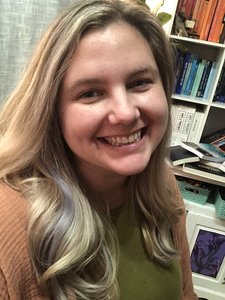 Samantha Rausch (b.1988. Charleston, SC) is a Jeff-nominated theatrical set designer and a conceptual artist working in sculpture, site-specific installation, and performance art. Born in Charleston, SC into a military family, Rausch moved a lot as a child and had the opportunity to travel Europe at a young age. Her mother introduced her early on to the many museums in Brussels, Belgium where she lived, and Rausch credits this exposure early on to her love of art and art education. Her father also inspired her to build what she imagined, whether it was furniture or entire rooms in the house. He would allow her to build alongside him, creating environments within their homes. This passion for creating immersive spaces that transform and examine how we engage with time, space, and relationships has been a continuing theme for Rausch ever since.
Her visual practice revolves around different ideas of play, which can be experienced in a variety of settings, such as on the stage, in gallery spaces, or in the public realm.
Rausch's art practice acts as an alternative vision of the world, where creating specific situations can unite people together. These visual narratives are created through her constant exploration of mystical symbols, ancient monuments, nature, the celestial, poetry, music, and performance, all of which critically examine the engagement of the viewer with their surroundin
g.
Rausch
currently lives and works as a visual and performing arts educator in Chicago, Illinois. Her artwork has been exhibited at institutions like the Chicago Museum of Science and Industry, and Chicago's Museum of Contemporary Art, as several public art pieces are shown nationally. Her commitment to transforming public spaces has also informed her outlook in the classrooms she teaches in, where she has found great joy in creating an interdisciplinary curriculum based around collaboration and revisualizing one's environment. Being a reflective artist and educator, she hopes her pedagogical methods foster the emergence of free-thinking and socially engaged individuals into society. Through her experiences as a working artist and teacher engaging with many different students, Rausch has witnessed how creative transformation could come from investing in children within the broader community simply by encouraging students to be curious, facilitating an open discourse, and creating a safe space for exchanging ideas. These are all crucial to Rausch's position as an artist and instructor, and it is these fulfilling experiences that lead her to pursue her Master of Arts in Secondary Arts Education to become a Visual Arts Licensed Educator. She hopes that through a mindful consideration of the environment she creates that she can engage participants in immersive installations in both classrooms, art and community settings alike.